CITY CENTRE TRAIL
This trail takes you through the alleyways and hidden corners of Dundee's city centre. It'll only take you about an hour to get round it on foot (longer if you include the pieces in Blackness). The city centre now includes two large mural which are part of our city-wide mural trail - you'll find these at Tay Street Lane and William Gardiner Square (behind the Overgate). The blue markers represent pieces comissioned by Open/Close, the red ones are additional pieces which we didn't organise but are definitley worth a look!
Due to the ever-changing nature of street art, some pieces have disappeared, but the map is as up-to-date as possible.
You can also help support the project by buying a physical map for £1 from one of the following locations: the DCA, McManus Galleries, V&A Dundee, Visit Scotland, Brewdog, Madigan's Tearoom, This Way Up, Quirky Coo, The Bach, Ozzy's, Daily Grind and iArt Supplies.

The original trail in the city centre comprised 18 street art pieces on 18 different doors by 18 local artists around the city centre of Dundee - they might not all still be there now, but here's a little bit about each artist and their work.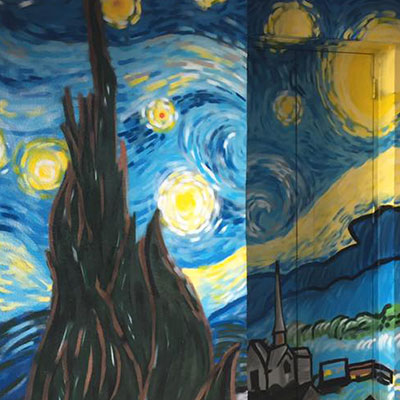 SYKE (real name Symon Mathieson) has been painting for a long time and has lived in Dundee all his life. Graffiti art is his main interest but he enjoys most forms of art. Having always been a fan of Van Gogh, SYKE used part of the starry night painting as colour fill for lettering he painted before (in Tentsmuir) and wanted to do a full tribute. This was a great opportunity for him to paint a full version using spraypaint.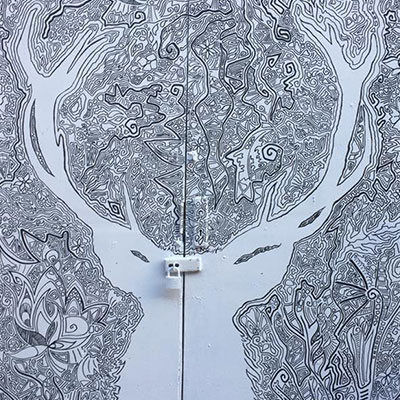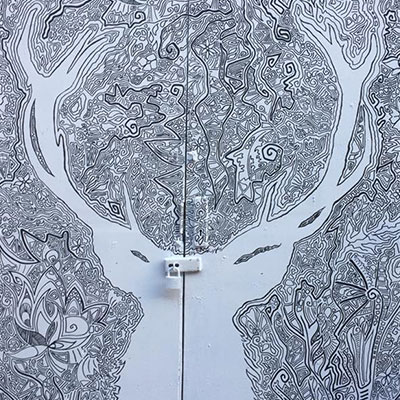 Steven's work aims to creatively engage people with the natural world, wildlife and the importance of environmental protection. He does this by connecting the viewer to the artwork through story-telling and the creative exploration of memory, feelings and childhood experiences.

With a background in geoscience, 90% of Steven's contributing artwork grew organically using a freestyle approach. His inspirations draw on the depths of woodland, a prevalent habitat of the Scottish red deer.

The designs found around the stag include plants, flowers, woodland, moorland and rivers while also referencing contours found in maps. Importantly, the white space signifies the purity of the environment, which remains at the centre of exploitation, conservation efforts, and climate change debate.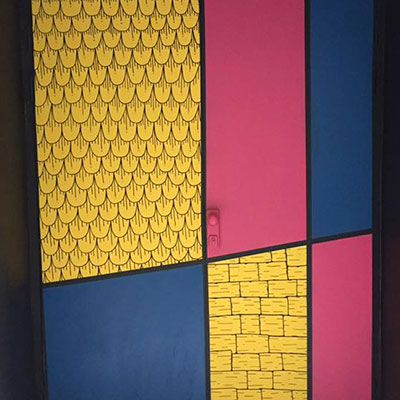 Suzanne Scott is an artist based in Dundee working under the name WhimSicAL LusH.

Suzanne's artwork installations have been commissioned by bars, and she has produced illustrations used to brand events, and even beer and gin! More recently she has secured prominence as a public artist, designing bronze plaques for Dundee City's Discovery Walk, making her permanent mark on the city. Suzanne was also artist and artist co-ordinator for the popular Oor Wullie Bucket Trail.

The WhimSicAL LusH door is inspired by the colourful Dundee Design Festival windows, which also inspired the limited edition enamel pins Suzanne created for the festival this year. The windows, like the OpenClose project and Discovery Walk symbolise bringing together Dundee's past and present and celebrating both.
Dundee based Paco Graff has been using spray paint since mid 90's, where he grew up in the south of France. He moved to Scotland in 2000 and quickly got involved in commission work from councils, schools, shops and much more.
Amongst other commissions, what he enjoy best is painting 3-D letters with animals, birds... Paco especially likes mixing up the graffiti lettering with wild life and working on backgrounds.
He has painted many kingfishers in the past and really likes the striking colours, which he thought would fit well into a dark close, bringing some wildlife into an urban area.
Johanna tonner is a local fine artist currently studying at Duncan of Jordanstone College of Art and Design. Her work mainly focuses on bright, vibrant colours which she couples with erratic patterns and simple shapes. Her main method of working is screen printing however she regularly enjoys exploring other techniques such as photography, collage and mixed media.

A lot of Johanna's work explores the idea of art as therapy, an idea which interests her a lot. She volunteers with groups Art Angel and Tayside Healthcare Arts Trust which provide a relaxed environment in which participants who have experienced mental health difficulties, strokes or brain injuries can create art. Her involvement in these organisations has a great influence on her art practice.

After studying at EINA in Barcelona for 5 months last year, Johanna has broadened her body of work and learned new methods of working alongside improving her printing skills. Her time in the Spanish city has become a huge influence on her recent works. She is passionate about travel and believes that exploring other places and cultures helps her expand her knowledge and improve her work.
Indie Matharu is a London based artist primarily working in graphite, markers, and coloured pencil. Her ability to meticulously capture photo-realism is inspiring; visually reflecting the personality and soul of the character she composes. Working globally among other art icons, Indie thrives on new challenges and regularly receives international commissions.
Gregor's interest in portraiture really kicked off during a 3 week visit to the States, where he felt inclined to make drawings of the public in a multitude of different styles. During his 3rd year studying Fine Art at DJCAD, he became obsessed with making patterns as a therapy to deal with problems and anxieties in his life, and the inclusion of single line portraits seemed to be the most successful design. Gregor decided to apply this texture to different found objects - a guitar, a vase, a table - and received good criticism. He's given this pattern the title 'Manic Precision', emphasising the chaos viewed from afar, and the accuracy of line when viewed up close.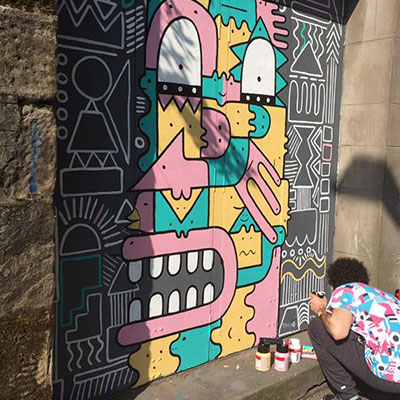 THING THING is a manufacturing studio practicing in Detroit, USA. Established in 2012, they design processes to work intuitively with materials and methods usually reserved for industrial production. Thing Thing makes experimental design for exhibitions, collectors, and consumers. And occasionally murals!
Rachel Mulder and Simon Anton's mural "Satchel Weirdo" was inspired by the idea that many cute lil guys can work together to make a large, weird dude. Bears, dogs, blobs, anteaters, snakes, doodads - aren't we all more than the sum of our parts? The mural is dedicated to all the fine folks of Dundee.
Given the title "Always Rising", this piece focuses on a phoenix, using a juxtaposition between stark abstract lines and flowing organic form which contrast and blend in with the surrounding architecture. Inspired by the the rejuvenation of the city and the waterfront development, this piece seeks to add a bright spot in an otherwise shaded area of the centre. Markers, spray paint and stencils were used to complete the piece. The artist uses many different techniques and materials to complete his work and is not limited to any genre or form.
BFL is a stencil artist from Aberdeen, working in spray paints on multi-layer stencils which he creates himself. He is mostly known for his horror icon portraits and Posca penwork advertising on the mirrors in Brewdog Aberdeen.
BFL's piece was inspired by his logo; a modified Irn Bru can which he realised was also the city's colours, so he thought it would be nice to do something fun and bright in those colours.
John Fraser is an artist born and bred in Dundee who has always drawn , painted and made things. He has completed numerous commissions from nightclubs to nurseries, and doesn't concentrate on any one medium or on any one subject. He painted an image of his own hand for this project, using spray paint and a set of dodgy ladders.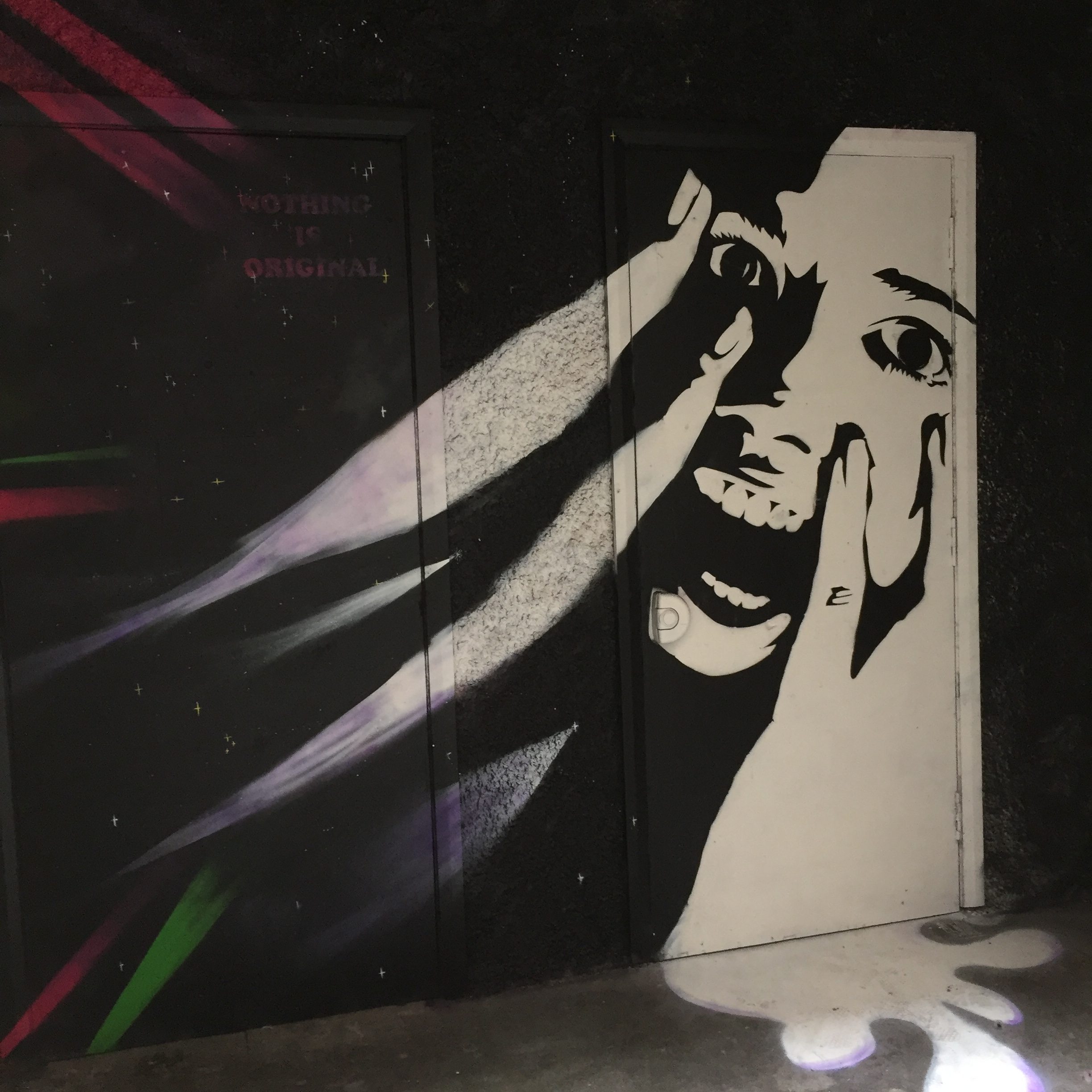 One of the original members of the Secret Society of Super Villain Artists and founder of the Black Tartan Division, STUC is a Scottish stencil artist with a history of international shows.
His piece is a hand cut stencil using MTN94 spray paint, Posca markers and acrylic, and was completed with the help of fellow stencil artist RYZE
Graduating with a degree in painting, Katie is an artist and illustrator who's creative career has lead her to focus on exhibiting, live drawing and commerical projects. She is the founding member of Real Nice Studio and spends her spare time trying to make art and design more accessible in Scotland.

Katie spent her youth encouraged to challenge and experience as much as possible, which resulted in more than a few broken bones, red faces and concussions. Due to this curious nature she has grown up with a desire to explore everything ranging from the precarious to the mundane. A weird combination of youthful enthusiasm mixed with utter cynicism leaves her work with a sarcastic, raw and yet playful tone.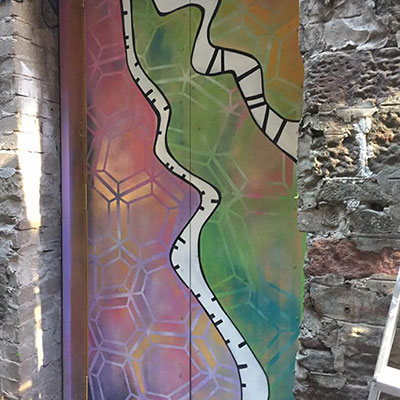 Islay is a jewellery designer/maker based in Dundee. Her work usually consists of creating bespoke kilt pins and jewellery for private clients alongside evolving collections of unique pieces inspired by a surreal view of the world and the forms and patterns that surround us. Painting the door was a change of scale for her and a chance to let loose and experiment with colour, new materials and a different way to express her aesthetic desires. She has titled her piece "Oddgon Galaxy with Date Notched Rivers", with the notches representing the date the door was painted; a method she uses in her bespoke jewellery work.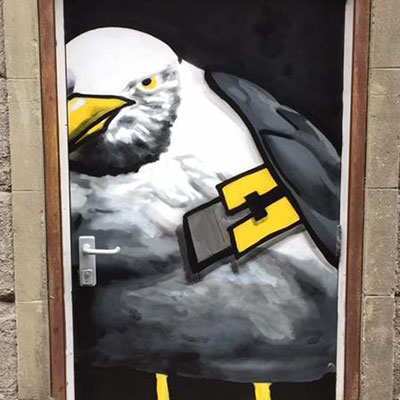 C. Gull has lived in Dundee for over 10 years and feels that a shared experience for anyone that comes here is the huge, angry, mental seagulls. Always watching, always a threat, it's something that affects all of our lives. Many of us have experienced a terrifying white and grey flash in the town centre or have witnessed them picking away at the carcass of last nights take away. Word on the street is that they got into some genetically modified corn back in the day, who knows? C.Gull's door describes the danger all Dundonians face on a daily basis.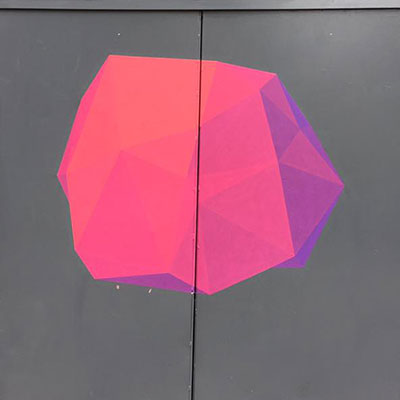 Originally from Wroclaw and now living in Dundee. Tytus is more of a designer than an artist, believing that art can be dangerous and useful in equal measure.

He believes that there is no empty wall, as they always trigger a feeling in us - just as every aspect of our reality is interpreted in our minds. He hopes that by creating art, this project will highlight the difference in attitudes between cared-for and uncared-for areas within the city, and will be a catalyst for change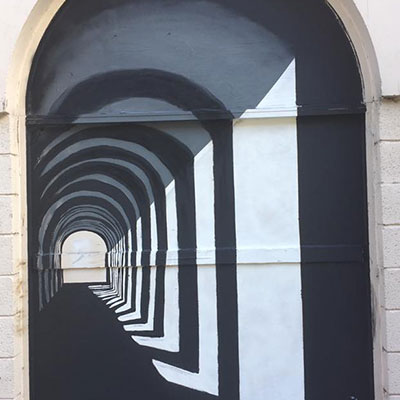 Bleach is a mixed media artist from Aberdeen. She does a little of everything, from illustrations and design to book sculptures and mural painting, but is predominantly known for her use of fineliner and inks for portraits, as well as her love of illustrating on antique books and making things messy with acrylics. She enjoys using various mediums to portray different moods in her work. Bleach's piece came entirely from the shape of the wall, working the archway into something with a forced perspective.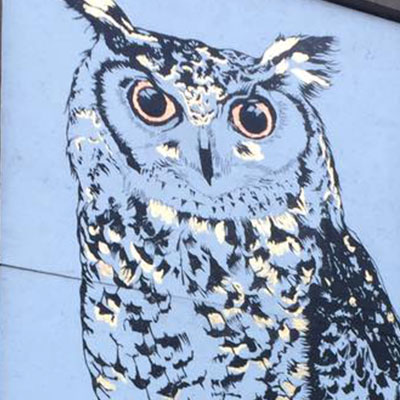 Lindsey loves to draw owls, it's as simple as that! She enjoys depicting their stern expressions, their powerful poses and the patterns in their plumage.

Lindsey been illustrating wildlife in one form or another since her time at Edinburgh College of Art, and it has played a major part in most of her projects ranging from clothing and textiles to window installations and straight forward art prints.

Lindsey usually enjoys drawing with sharp mapping pen and Indian ink or the tiniest graphic pen and working in monochrome to allow for the detailed pen lines to remain the focus, so to work at this scale was a real departure for her!

For the Eagle owl she stuck with pen for the foundation, albeit much fatter and acrylic based and threw in a few other materials along the way!
A big thank you to all our sponsors who kindly donated to help make this project happen.
- Place Partnership
- Scottish Enterprise - Cultural Tourism Fund
- PDQ
- CEX
- Direct Line Timber Ltd.
- Trinity Arts Ltd - iartsupplies
- Ozzy's
- Dundee City Council
- Lorraine Law
BUSINESSES/PERMISES WHO GAVE US DOORS
Thank you to everyone who donated their doors, without which this project just could not have happened.
- Quirky Coo (Gregor Thomson)
- Lorraine Law (C.Gull)
- Blo Out and Refresh (SYKE)
- CEX (Whimsical Lush)
- Keiller Centre (Fizz Yann, Bleachand BFL)
- Shoe Zone (Paco Graff)
- RBS (STUC)
- Caw's (Islay Spalding)
- PDQ (John Fraser and Lindsey Brown)
- Nicoll's (Stephen Sinclair)
- Butterfly Cafe (Katie Guthrie)
- Arkive (Johanna Tonner)
- Hawkhill Brewing (Indie Matharu)
- Park Leisure (Thing Thing and Tytus Skafander)