STOBSWELL TRAIL
This trail takes you around the sites of the Stobswell area, just a 10min walk from the city centre. Taking in all the doors will only take you about 1.5 hours to get round on foot. Also in the area and well worth a look is the legal graffiti wall at Tayview Community Garden on Robertson Street.

You can also help support the tour by buying a physical map for £1 from one of the following locations: the DCA, McManus Galleries, V&A Dundee, Visit Scotland, Brewdog, Madigan's Tearoom, Quirky Coo and The Bach.
20 artists have painted doors for the Stobswell tour, here's a little about each of the artists.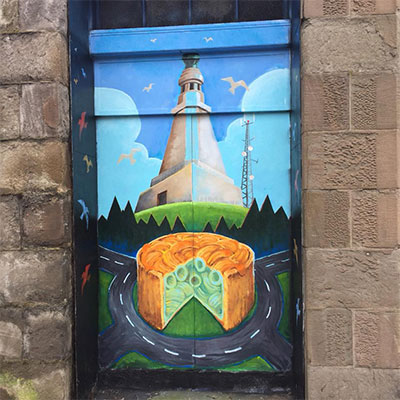 Matthew Beakes is a visual artist and illustrator currently working in Dundee's thriving games industry. In addition to designing elements for games and media, he draws, sketches, and paints, while developing small press comics. Based in Dundee since 2016 - having previously lived and worked across the UK and Ireland, he has developed a keen interest in the theme of home and how people relate to and identify with their own homes, spaces, and cities. This doorway employs surreal, colourful imagery (with a little tongue-in-cheek humour) to explore the ways in which we can celebrate the hope and optimism for the city's future, while acknowledging its unique and lasting character.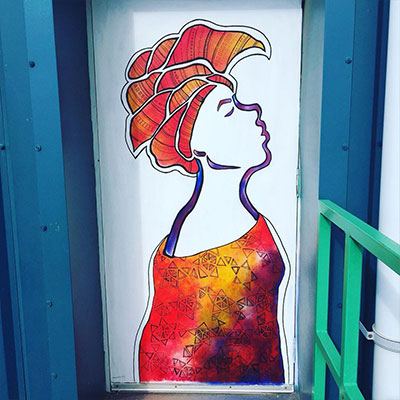 Shona is a DJCAD student who has recently have been exploring the Nigerian side of her heritage by using bold colours, patterns in textiles and motion in music. She is inspired by street artists especially Jean Micheal Basquiat and Banksy, as well as Afro futurism; a cultural aesthetic that combines science fiction, fantasy, magical realism and African culture. Shona creates stencils then use spray paint and acrylic paint to create a silhouette that's usually bright and colourful. Recently Shona have been exploring printmaking techniques of lithography and screen-print as a way of combining colour and collage.
This portrait depicts Ethel Moorhead, who lived in in Dundee from 1901-1911. Ethel was one of the most notorious and militant suffragettes, famously throwing an egg at Winston Churchill at a meeting here! Imprisoned several times for arson, throwing cayenne pepper at a policeman and whipping a lecturer for ejecting her from a meeting (among other acts), she was the first suffragette to be forcibly fed in a Scottish prison. Ethel was also an accomplished artist and worked out of her studio in the (now demolished) King Street arcade near the bottom of Prince's Street.
Dundee born and raised, since a young age Keir has been interested in art, design, music and nature. He studied graphic design at Dundee College and DJCAD. Keir has more recently turned his attention to pursuing a career in the tattoo industry with most of his work being influenced by old school and neo-traditional tattoo art. This piece was inspired by the new resident magpies in the Baxter Park area where Keir lives. The Edwardian style chimney they are nesting in are very common on the tennaments of Stobswell.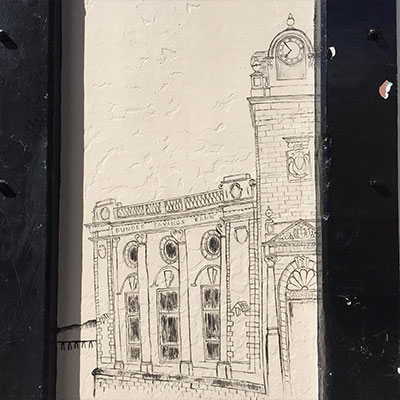 Laura Darling is an illustrator based in Dundee and her work is underpinned by drawing, looking and noticing.
Every project begins life in a sketchbook and Laura combines traditional and digital print-making to create her final pieces. She loves creating hand-lettering and her illustrations feature everything from animals and architecture to people and patterns.
Laura is a staunch advocate of procrastination and is always working on several projects at once.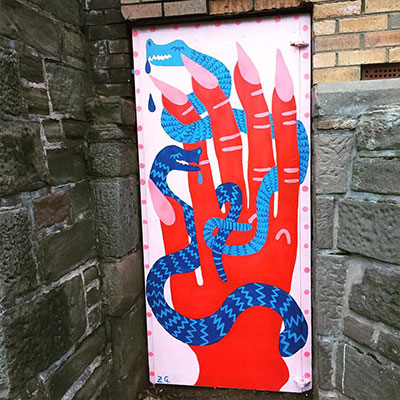 Zoe's work tells wonderfully bizarre stories through her illustrations and murals which use colour and pattern to transform spaces from the ordinary into a window on a different world. Zoe graduated from DJCAD in 2017 and is now living and working in Edinburgh.
Ryan McLeod is a designer working across many different areas including digital, print and physical objects. Alongside Lyall Bruce, he runs design studio Agency of None. He also runs a podcast called Creative Chit Chat capturing the journeys, thoughts and opinions of brilliant creatives connected to Dundee.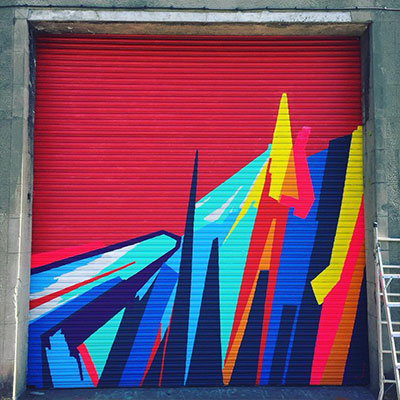 Joanna Craig's concept is for a bright, bold and striking painted image upon a Stobswell door. Her idea comes directly from the inspiration which drives all of her work - the making of place.
Jo's work focuses upon studies of the land, observations and the beauty of colours, line and form found there. She makes works at Scotland's raw edges – the eastern coasts and river mouths. Her hand translates these studies with brush strokes and pencil marks, to create bold and striking images with the curious personality of this land within each piece.
This is exactly what Jo was driven and enthused to do in the kaleidoscope of land that is Stobswell; translate one of her studies from our local eastern coasts onto a door, expressing with colour and energy, line and form, the vibrant personality of Stobswell and Dundee within the work. It is a portal on a door, between life and land.
Stephen is a sculptor and ceramicist; working from his studio at home he invents new techniques for glazing and firing, including "Moku" - a mock raku effect which makes raku safe for food and drink! His DJCAD degree show incorporated wall-mounted ceramic mosaics using a similar technique to the piece he has created for Open/Close in Stobswell.
Since graduating in Fine Art from Duncan of Jordanstone, Garry has concentrated on portraiture for the past six years. His main body of work includes black and white portraits of subversive icons of modern day pop culture - the monochromatic palette highlighting the timeless nature of each individual, drawing on influences from photography, music and cinema. Painting Billy MacKenzie has always been a goal and OpenClose seemed like the perfect platform to depict a local hero who is held in such high regard in Stobswell and Dundee as a whole. It was also an opportunity to creatively engage with more people outside of traditional art spaces, a long term aim of Garry's work.

Susie Purvis is an Edinburgh based illustrator and printmaker who loves to paint and draw using bold, fresh colours. Her illustrations are usually figurative, portraying people of all shapes and sizes. Susie's door was intended to capture the idea that Dundee is quickly becoming a creative hub, attracting different types of creative people to the city.
Holly's work aims to evoke a sense of empowerment by depicting the female form in an imposing and commanding way, inviting the viewer to create their own narrative. In our modern age it is easy to forget the purpose of human existence, as well as the beauty and strength the human body contains. Women are judged on physical appearance and so female strength is often underestimated, however empowerment can be found in the very basic animalism which all females have.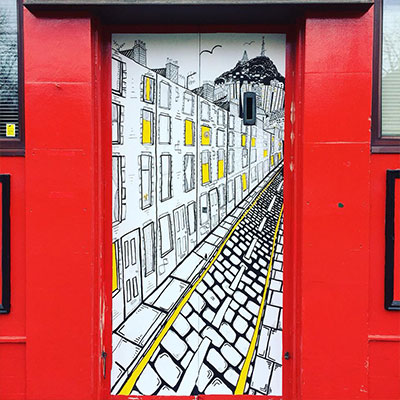 Pamela Scott is a printmaker and illustrator from Dundee. She first fell in love with printmaking whilst studying BA(Hons) Illustration at Duncan of Jordanstone College of Art. Inspired by the landscape, nature and architecture she creates bold, graphic designs of real things/places or from her imagination. Her main practice is creating original linocut prints which she sells through Etsy and at local craft markets as well as creating unique prints for private clients. Working on this scale was a huge challenge as she usually works in inches not feet. Pamela's design depicts an imagined Dundee cobbled street with the Law in the background and was created using emulsion and posca pens.
Steph Liddle is a Ceramics Designer/Maker based in Dundee, Scotland. With an eye for colour and pattern, she draws on her background in illustration to create contemporary, graphic ceramic jewellery and homewares. Focussing on minimal shapes, combined with bold patterns and a limited colour palette, she creates pieces which are easy to wear and live with. Working from her studio in a Victorian jute mill, Steph makes each piece by hand and aims to create simple and functional, yet beautiful, products to be cherished and used.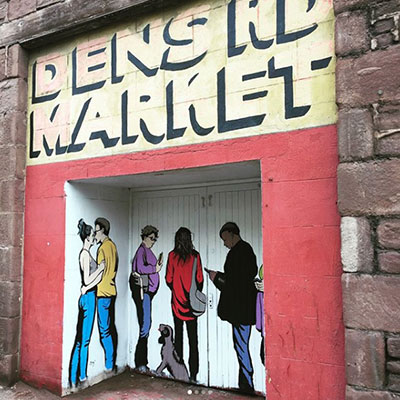 Monty Nero writes, paints, and makes comics – including Death Sentence with Mike Dowling for Titan Comics, Hollow Monsters (currently on Kickstarter), @MontyandZuzu with Zyzanna Dominiak (online), and various stories for Marvel, Vertigo and 2000ad. He graduated with a Masters from The University of Dundee, winning The Duncan of Jordanstone Prize, and is currently working for Marvel on an X-men story. His agent for written work is James Wills at Watson, Little Ltd and he lives with his family in East Dundee.
Jen Collins is an illustrator from Scotland. Her work often notes quiet moments, human connection and the natural world. Pencil and paper are her tools of choice, but she occasionally plays with clay, too. She graduated from Dundee's DJCAD before spending time freelancing in Glasgow and Toronto, and currently works out of a little studio in Dundee. Her door was influenced by the joy of encountering neighbourhood cats, because it's always nice to bump into a familiar feline face.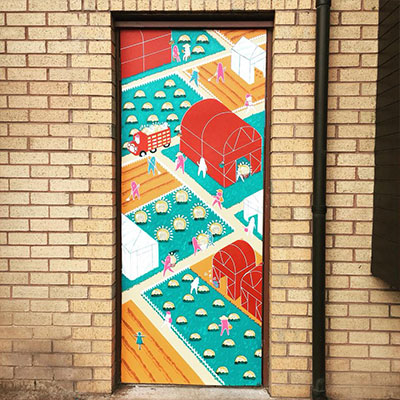 Originally from Glasgow, James Gemmill graduated from Duncan of Jordanstone College of Art and Design in 2017 and has since been living and working as an illustrator in Dundee. Since graduating he has produced work for various Dundee based businesses and organisations, as well as selling his personal work online and at local events. He likes to make work that is vibrant and busy, and reflects his sense of humour. Although his work is mostly completed digitally he still enjoys drawing and painting traditionally.His door design depicts an Idea Farm, which represents Dundee's creative community, working together to nurture and grow their ideas.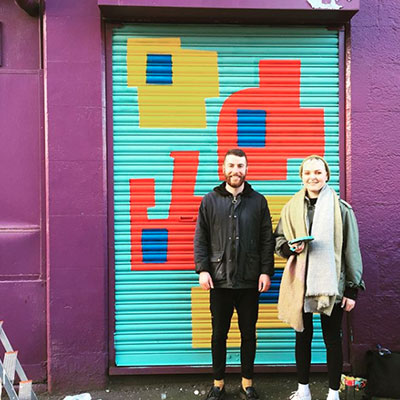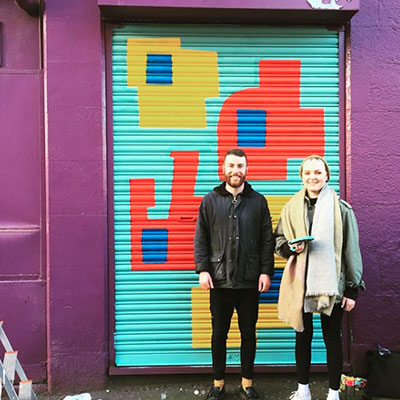 BUA is new cross-discipline collective that creates artworks in cultural spaces. These playful artworks, imbued with colour are typically found in urban contexts and this is due to a shared belief in the positive effects that public artworks can have on our collective mentalities. The accessibility of these works allows BUA to expand their practice into public discourse as well as publications and galleries. BUA is the collaborative work of Irish fine-art painter/printmaker Stephen Burke and designer/illustrator Lou Rowland.
Stephen and Lou are from Dublin and Donegal, Ireland and the pair are currently working towards the completion of their masters courses in the Glasgow School of Art. Lou is a multi-disciplined artist with a BA in Visual Communication from NCAD, Dublin. Her work brims with abstract shapes, vivid colours and eccentric patterns. She works through a range of mediums including illustration, murals, book design, painting and installations. Lou is currently completing her MDes in Illustration. Stephen is a fine-art painter who graduated with a BA in Print-making from NCAD, Dublin. His work generally exists in the form of large multi-medium paintings and sculptures in both interior and exterior spaces. He's currently completing his MLitt in Painting.

Amy is an Edinburgh based Irish illustrator, working across a variety of media, always aiming to create something a bit different. She received a Higher National Diploma in Animation, and Bachelor of Design (Hons) in Illustration.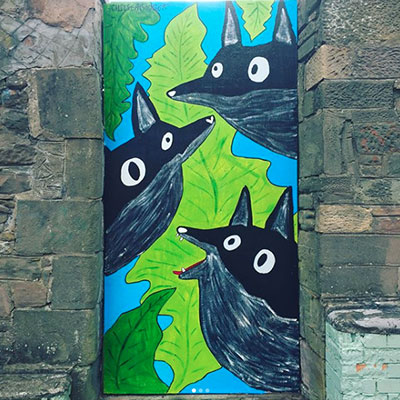 Chelsea Rodger is a Freelance Artist Living and Working across Ayrshire.
Graduating from a BA hons Degree in Contemporary Art Practice in 2015, Chelsea created Pastel Fox Studio. – An Artist's Studio and shop in Girvan, a place for creating new work and undertaking commissions as well as selling local handmade products and hosting workshops for under 18s.
Chelsea's biggest passion is her love for all animals. Especially Foxes, she likes to make a point of painting them to provoke those who see them as pests. This often results in her work being driven by merging urban wildlife with plenty of quirky doodles. She can also be found painting more realistic natural paintings with a more traditional aesthetic.

A big thank you to all our sponsors who kindly donated to help make this project happen.
- Maryfield Community Regeneration Forum
- NHS Community Innovation Fund
- Dulux
- Hillcrest Housing Association
- Dundee City Council
- Dundee Contemporary Arts
- iArt Supplies
- Ozzy's
BUSINESSES/PERMISES WHO GAVE US DOORS
Thank you to everyone who donated their doors, without which this project just could not have happened.

- Tayside Plumbing
- Den's Rd Market
- Dundee International Women's Centre
- Room 39
- Nicholson's Cycles
- Stobswell Dental Practice
- Boomerang Centre
- Paper Shop
- Windsor Bar
- The North Eastern
- Cuts & Colours